Products - ATCC TOLL
Why Al based ATCC for Toll Plaza?
Al-powered traffic counting and classification systems outperform traditional sensors, providing precise real-time data. They seamlessly integrate with toll plaza management software, offering cost-effective solutions and improved operational efficiency with minimal maintenance.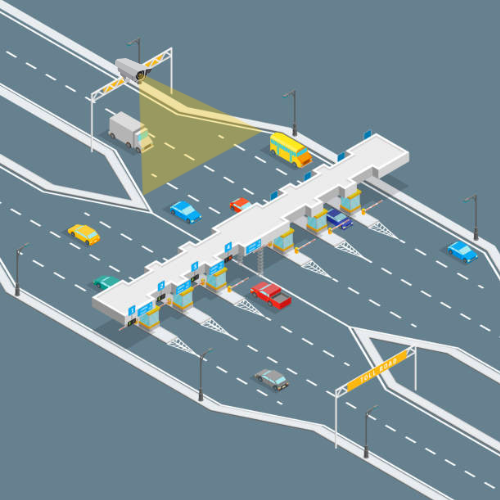 Why choose COS AI ATCC?
COS Al provides customized solutions for toll plazas, with adaptable hardware and software tailored to diverse vehicle types and axle counts. Its user-friendly interface integrates seamlessly with existing systems, enhancing toll plaza management efficiency.
How ATCC works?
The camera on the gantry near the toll plaza transmits video through optical cables, and with the assistance of COS AI software, an LPU kit in the toll office performs analytics. The real-time traffic data is then showcased on a separately provided computer interface.
Key features
Classes:
Detects more than 17 classes, covering most of the NHAI Mapper Vehicle Classes (20 classes).
Accuracy:
Achieves 95% classification accuracy and 98% counting accuracy..
Validation:
Validation of the toll plaza traffic is done using other installed methods.
Toll Management:
Flexible post-editing options and an excellent report format for comprehensive toll management.
COS AI Classes
Two Wheeler

Three - Wheeler Passenger

Three - Wheeler Freight

Car / Jeep / Van

MLCV

LCV 2 & 3-Axle

MINI BUS / BUS 2- axle

Truck 2-Axle

Bus 3-Axle

Truck 3-Axle

Truck 4-Axle

Truck 5 & 6-Axle

Truck Multi Axle

EMM

HCM

Tractor

Tractor (W) Trailor
Terms & Conditions
Uninterrupted Power Supply, lighting, Internet Broadband line, Network Cabling Camera mounting and other miscellaneous works are borne by the client.
Camera installation must be at least 18 feet above the surface.
Distance from the pole to the desktop fiber connectivity is required are borne by the client.
3 lights will be installed. There must be two poles in front of the camera pole. We need a 20 meter space between each pole. A Third light will be installed close to the camera with a road-focused beam.
Standing vehicle should not be parked in the video coverage area. Thro-traffic only preferable.
For Toll Plaza, through traffic only, not advised for Service road, Road crossing. Traffic Signal, and Leakage Roads, ATCC Toll is recommendable.
If a customer requests a service road, leakage road, etc., we are unable to guarantee the accuracy of the counting and classification.